You are here
Industry Solutions
Operating a plant efficiently and safely requires a smart, reliable and high-quality communication system. Our solutions are designed to meet the needs of plant owners, managers, employees and visitors. It allows operators to communicate to the entire plant, selected zones, perform PA or Emergency Announcements and much more.
Visitor Management at Entrances and Barriers
Our intercom stations allow you to identify visitors via both audio and video and guide them to where they need to be. We provide clear and powerful audio regardless of background noise.
Control Access to Restricted Areas
Industrial facilities have a variety of restricted zones, and it's important that access to these areas is monitored and controlled. Our intercom stations allow you to do just that via both audio and video.
Hazardous Areas
In situations where communication with staff in hazardous conditions is vital, our products are safe, sturdy, and built to resist heat, explosives, and other environmental hazards.
Production Areas
When ambient noise levels fluctuate, our systems proactively work to reduce the effects of background noise on communications. This enables clear communication in production areas, warehouses, and technical rooms.
Integration with Radio Systems
Efficient communication through a variety of channels is crucial in industrial settings. Our intercoms can seamlessly integrate with your other tools to connect with radio, wireless phones, and other communication devices.
Efficient Comunication in Emergency and Everyday Situations
Whether you're providing general information throughout the building or to specific warehouses, production areas, or other sectors, our products will meet your needs. They also assist in responding to emergency situations with both pre-recorded and manual announcements.
Perimeter
Industrial estates often have large permimeters, and our products make the perfect addition to physical barriers, sensors, CCTV, and other security measures. When an alarm triggers, our products can be used to send automated messages directly to the tripped sensors.
Control Rooms
In addition to allowing you to answer calls, our desktop stations make public announcements simple. And through our Zenitel Mobile app, forwarding calls from your desk to your mobile phone is no problem either.
Superior Audio Quality

Your ability to hear, be heard and be understood in emergency situations is essential.

Zenitel's Intelligent Communication systems are used in the world's most demanding environments, due to their unrivaled sound and audio quality.

Integrated Communication

Efficient communication requires a single integrated communication platform.

We support open protocols such as SIP that make it simple and straightforward to do all your communication from one central console.

Integrated Security

Reliable communication between different systems is important. We share information through common protocols or dedicated drivers with other parts of the security system like Access Control and Video Cameras to enable automated processes.

This makes it easier for your security team to work much more efficiently when faced with critical events.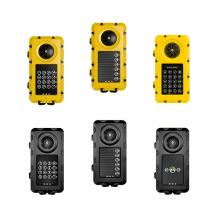 Our Explosion-proof, Rugged Intercom Stations are designed for harsh environments , not only meeting industrial requirements, but also requirements for ATEX Zone 1 operation. The plastic housing is designed to withstand most chemical and environmental hazards.
Our IP Horn Speakers can be mounted on walls and feature a built-in 10W Class D amplifier. The built-in amplifier eliminates the need for a central amplifier unit with conventional speaker loops. This also makes it easy to add more speakers, and speakers can be divided into groups or addressed individually. All speakers are easy to install and maintain and include a built-in web interface for easy management, software upgrades, and status checks. They can be easily fitted with rotating lights to indicate calls in noisy areas.
The heavy duty telephone is made for critical communication in rugged environments. The station is extremely water and dust resistant (IP66) with a durable 5 mm aluminum casing and stainless steel components.
 
The Exigo Network Amplifier is designed for use in industrial environments where you need a powerful amplifier to broadcast messages and make sure they are heard. The amplifier utilizes state-of-the-art class D amplifier technology to ensure high power efficiency and superb audio quality for two audio channels which can be loaded with up to 100W each.
Our series of Turbine IP Intercom Stations are designed to withstand extreme fluctuations in temperatures and vandalism, dirt, dust, and water. The stations provide crystal-clear audio thanks to powerful speakers, automatic volume adjustment, and background noise cancellation. The stations have multiple design options and are perfect for doors, barriers, and gates.
 
The ITSV-3 Desktop Video Phone is a powerful desktop video phone featuring Android 7.0, a 7" touch screen, real-time HD video telephony, built-in WiFi, Bluetooth, and more. The ITSV-3 delivers advanced SIP telephony features and out-of-the-box integration with our IC-EDGE and ICX-AlphaCom IP Intercom Platforms. It's also possible to use our Vingtor-Stentofon Intercom Client to provide these features directly to your PC as an alternative to a physical station.
We offer a touchless sensor, available as an accessory for our Turbine compact series, to address the need for contactless communication, for a variety of settings and applications. With its gesture recognition, you can activate intercom calls with the simple swipe of your hand. 
Solution sheets
| Date | Name | Category | Size | Download file |
| --- | --- | --- | --- | --- |
| | Industrial- Soluções IP -PT | Solution Sheet | 2.49 MB | Download |
| | Soluciones Industrial - ES | Solution Sheet | 2.45 MB | Download |
| | Industrial Soluções IP - BR | Solution Sheet | 5.47 MB | Download |
| | Industrial Solution EN | Solution Sheet | 1.66 MB | Download |
| | EXIGO Amplifiers Maritime EN | Solution Sheet | 942.98 KB | Download |