Public Address for Building Security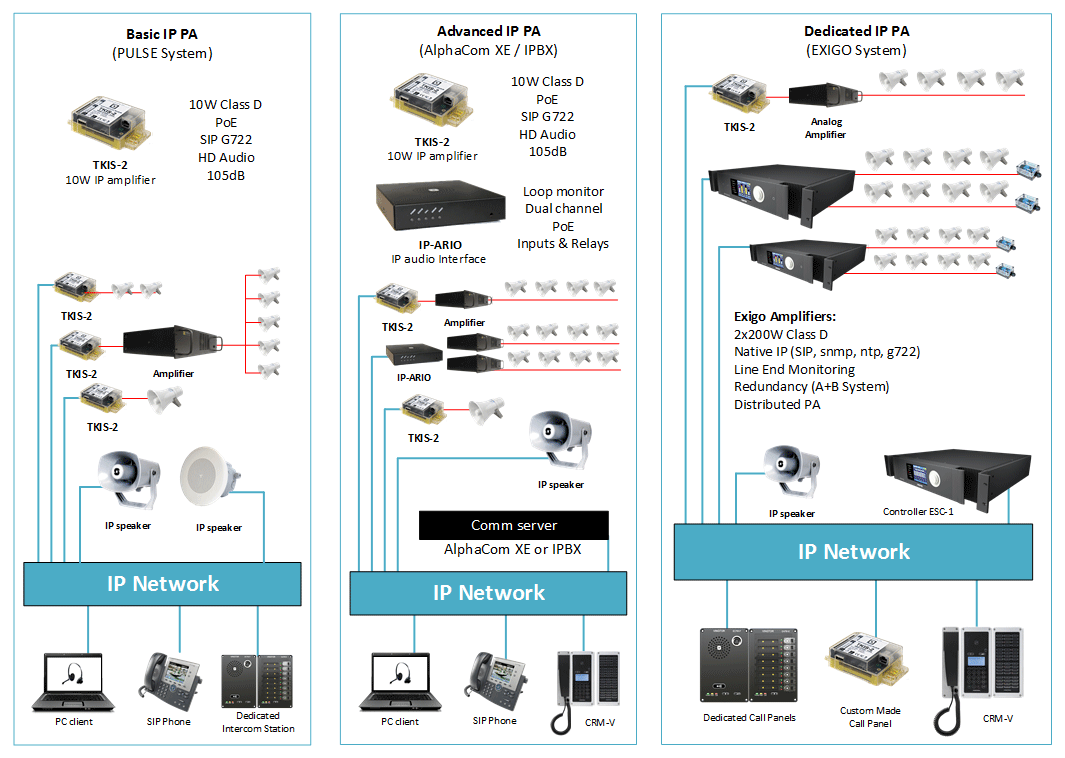 Leading provider of critical communication solutions
We manufacture high quality Public Address Solutions using HD audio for virtually any environment. By using IP technology, our products are platform independent and can be used with basically any system that supports the open SIP protocol.
Depending on your needs you can build a small-scale PA system using our own SIP based stand-alone system called PULSE. You can expand your PA system by changing over to a larger SIP platform or by using our own AlphaComXE platform if you need more advanced integration features. Finally, we have our own dedicated native IP PA solution called EXIGO which brings you high-end IP PA for the most demanding environments.
Benefits of using Vingtor-Stentofon for Public Address
Crystal Clear Audio. We use the G722 wideband audio codec to offer high quality audio. In addition our products support active noise cancellation and dynamic volume control.
Our products are platform independent and scalable. You can use our standalone PULSE solution for smaller systems or connect them directly to the IPBX telephony system. For more advanced security systems we recommend using our dedicated AlphaCom XE platform.
Native IP PA – EXIGO. Our dedicated IP PA platform is called EXIGO. It is designed to meet the most stringent requirements for OilGas and Marine projects. EXIGO is a distributed PA system supporting A+B systems, Full Redundancy and much more.
Product and Solution details
10W Class D IP PA amplifier call panel. Use our TKIS-2 module to build your own IP Speakers or use the kit as an OEM module to build your own customized PA call panel.
Extend the life cycle of your analog PA system. Our TKIS-2 kit and IP-ARIO interface allow you to include your existing analog amplifiers to an IP based PA platform. IP-ARIO has additional features such as Speaker Loop Monitoring and error reporting. Reduce your investment costs by extending the life cycle.
Talkback included. We use the same technology for IP PA as for IP Intercom. This means you can easily include intercom stations or SIP telephones to create a hybrid IP PA and Intercom solution.
Integration with the Overall Security System. If you use our dedicated AlphaCom XE communication platform you are able to integrate your entire communication solution with the security system. This means that the security guards will be able to work more efficiently using fewer man-hours.
Networking. IP technology brings you endless possibilities for networking and remote management. You can easily manage remote sites from one central point using networking solutions such as VPN, Fiber, Wi-Fi bridges or Microwave Networking.
Segment:
Government, Healthcare, City Protection & Public Safety, Education, Commercial & Corporate, Detention, Airports
Systems:
EXIGO Networked IP PA/GA