Zenitel solutions for onshore energy sites
Provide the highest safety and security standards for your site providing effective operations and fast decision-making with reliable, integrated and easy-to-use communication systems.
Onshore Plants
Oil & Gas Terminals
Pipelines
When smooth audio communication is paramount
Effective operations and full security
Operational teams and other staff need to stay instantly connected across all sites to ensure efficiency and safety of personnel and property. To meet these challenges, Zenitel designs communication platforms that are integral to meet the demands for onshore plants, terminals and pipelines including plant security systems to provide two-way communication with HD voice transmission, alarms and important information distribution and video surveillance.
Intelligent and integrated solutions
Reliable two-way connection and staff safety with integrated communications
We create turnkey products that make the daily work of your plant's personnel easier and safer. Our intelligent onshore plant solutions provide two-way communication in any area of the plant, and their integration capabilities allow you to combine intercom, area monitoring, public address and general alarm systems into a single easy-to-use platform. You get a reliable communication system with maximum coverage that provides timely alarm notifications and distribution of important messages..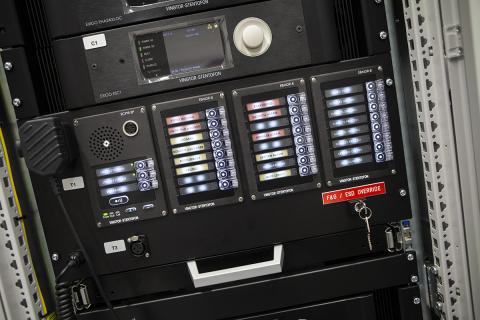 Reliable public safety and security solutions
Modern and cost-effective communication systems based on IP technology
Zenitel engineers have accumulated extensive experience in developing solutions for offshore and onshore sites as well as in building reliable public safety and security system to deliver state-of-the-art critical communication systems. We can supply a turnkey platform for new onshore plants, as well as we provide fast and cost-effective transition to modern solutions with our IP over 2-wire technology that allows integrating new, IP-based products using old cabling.
Experts in energy segment
Our solutions and services provide
uninterrupted operation and robust design you can rely on in the toughest conditions;
an interface between systems that turns separate products into a single communication platform;
system's flexibility, scalability, and cost-efficiency;
On site and remote service & maintenance
Case Study to come
Location/name
Although we have delivered solutions for onshore terminals and pipelines all around the world, we don't always have permission to create a case study on them.
What we can promise is that you will find case studies on all our segments as soon as they have been created and approved by clents.
For other case studies you can always check out our Newsroom below.
Maritime & Energy Services
At Maritime & Energy Solutions, we don't just provide top-of-the-line products - we offer unparalleled support and expertise every step of the way. Our skilled engineers are here to help you from start to finish, ensuring your success in designing, operating, and integrating our solutions into your vessels.