Communication Solutions for Ferry & Ro-Pax Vessels
Zenitel delivers a full range of integrated communication solutions that work seamlessly in a single system and provides a reliable, easy-to-use communication topology from the bridge-to-engine room and to all areas in between.
Ferry
Speed Ferry
Ro-Ro
Ro-Pax
Turnkey solutions for critical onboard communication
We offer fully reliable and easy-to-use infrastructure from the navigator bridge to any other crew member; additionally, you receive public address, video surveillance, and entertainment systems — all according to relevant regulations.
Zenitel experience & expertise
Critical onboard communication solutions
We supply a complete bundle of critical onboard communication solutions designed to meet your specific needs:
Our engineers provide a flexible selection of general alarm systems depending on your vessel's size.
An intelligent solution for video surveillance provides you with real-time monitoring of all decks and immediately detects any incidents. Integration with other communication systems allows immediate notification of your crew and passengers.
Zenitel develops a complete set of communication solutions that can be fully integrated and equipped with a simple and user-friendly interface.
All solutions are created to work seamlessly in maritime environments and designed in full compliance with all international regulations and requirements, including IMO regulations for public address systems for passenger ships.
If an incident occurs
Your crew and passengers' safety —
is our priority
We know that seamless communication between crew is critical in harsh maritime environments with fast changing weather conditions, high humidity and extreme temperatures. Whatever happens on board, with our integrated solutions, you can respond instantly: assess the situation in any area on any deck with a CCTV system, call an incident team, turn on the passenger notification system, etc. With our interface between systems, single products such as Intercom and Talk-Back System, Marine PAGA, Telephony and PABX and others work smoothly together. Zenitel provides you with a turnkey delivery of onboard communication systems in shortest possible terms.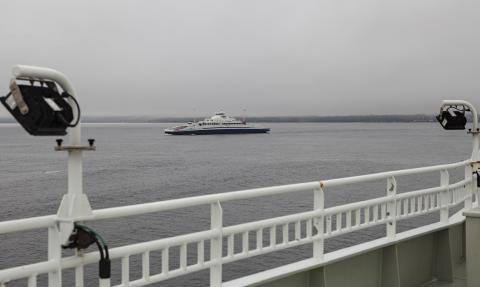 Crew welfare and safety
Ensure comfortable travel experience and safety onboard your Ferry & Ro-pax vessels
Service and safety for your passengers during the voyage begins with your crew's effective operation.
We create turnkey solutions that provide reliable seamless wired and wireless communications in any zone of your ferry, a complete 24/7 surveillance of all decks, crew and passenger notifications, and become a part of your overall Infotainment system. We use state-of-the-art equipment and technologies to develop custom, reliable, and cost-effective communication solutions for Ro-Pax and Ferry. Our engineers have accumulated extensive experience in creating Marine Approved Systems that are robust and corrosion resistant yet stylish and easy-to-use.
Zero emissions ferries in Norway
Norway
The zero emissions ferries project started back in 2014, with initiatives from the government. In 2015 the first emission-free electric ferry MF Ampere, operated by Norled, began operating between Larvik and Oppedal, a 5.6km route in Norway's scenic Sognefjord.
At Zenitel, we truly embrace the future: the nice-to-haves of 10 years ago are today's must-haves, so we keep our finger on the pulse of the industry. Therefore, the Smarter – Safer – Greener mantra remains an essential part of our own technology outlook.
Staten Island Ferries
New York, USA
The New York City Department of Transportation (NYC DOT) has ordered three new ferries to operate the route from Staten Island to lower Manhattan.
As part of this project, Zenitel has delivered a full range of critical communication and safety solutions onboard these three vessels. The full delivery consists of a SPA-V2 PAGA system, ACM AlphaCom for Maritime PABX system, IP-based CCTV system and LAN network with Cisco solutions.
Safe Return to Port (SRtP)
Is your ship's line of communication secure - even in case of emergency? Do you comply with the requirements of the Safe Return to Port regulation?
Zenitel provides a secure, wireless UHF communication solution between virtually any position on the ship at all times. In an emergency situation, the solution enables the ship's Safety Crew, Fire Fighters and Incident Commanders to communicate throughout the ship, regardless of where coordination is required.
By choosing Zenitel's Safe Return to Port (SRtP) UHF Communication Solution, you comply with the SOLAS (Safety of Life at Sea) SRtP regulation for internal communication among the bridge, engineering spaces, safety center, firefighting and damage control teams, and as required for passenger and crew notification and mustering.
DNV and RINA approved solution
Zenitel SRtP Higlights
Passengers of luxury and cruise liners make extremely high demands on the level of service. At the same time, the task of the crew is to provide not only an exceptional quality of service, but also safety. You
Safe & Secure UHF Communication
Redundant system to improve reliability and availability
Distributed Antenna System for coverage of all locations on the vessel
Compliant with IMO/SOLAS SRtP requirements
Integration with our own PAGA system
Safe Return to Port (SRtP)
A SOLAS regulation
The SOLAS (Safety of Life at Sea) Chapter II-2 on SRtP, as well as on the ability of systems to remain operational after a fire casualty, applies to passenger ships constructed on or after 1st of July 2010, with a length of 120 meters or more, or having three or more main vertical zones as defined in SOLAS regulation II-1, regulation 2.
The purpose of the regulation is to establish design criteria for a ship's safe return to port under its own propulsion after a casualty, as well as to provide design criteria for systems that are required to remain operational in order to support the orderly evacuation and abandonment of a ship.
Zenitel's Safe Return to Port Solution
Zenitel's SRtP solution provides secure, wireless UHF communication between virtually any position on the ship at all times.
In an emergency situation, the solution enables the ship's Safety Crew, Fire Fighters and Incident Commanders to communicate throughout the ship, regardless of where coordination is required.
.
Redundant System for Improved Reliability and Availability
Zenitel's SRtP solution design incorporates extensive redundancy to prevent a single point of failure having an impact on your system. With the Distributed Antenna System and two cabinets operating in parallel, there is communication coverage for crew personnel anywhere on the vessel at all times.
Should an incident or casualty cause a failure to one cabinet, the remaining cabinet will automatically take over the handling of all communications.
.
Maritime & Energy Services
At Maritime & Energy Solutions, we don't just provide top-of-the-line products - we offer unparalleled support and expertise every step of the way. Our skilled engineers are here to help you from start to finish, ensuring your success in designing, operating, and integrating our solutions into your vessels.